Siraha: Journalism training for the people has ended fruitfully in the meeting hall of the Chamber of Commerce located in Lahan Municipality Ward No. 7 of Siraha District of Province No. 2, Nepal.
A three-day journalism training has been started under the auspices of the Federation of Nepali Journalists, Siraha, and Madhes Media Mission Nepal Central Office.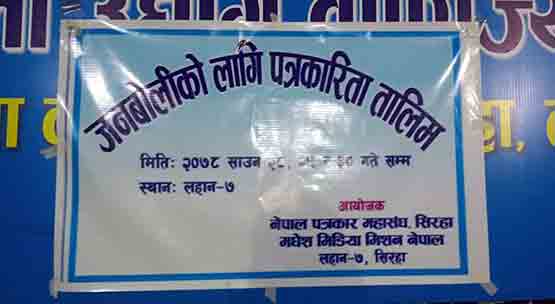 Journalism training for the people has started under the chairmanship of federation President Dineshwar Prasad Gupta. Training has been organized to bring the voice of the people in the world of journalism to the local and national and international levels through various information magazines.
Chairman Gupta said that the training was organized to help the people build their transformation by conveying their rights and grievances to the people. He also said that the training was conducted with the objective of making successful citizens good journalists.
Human rights activist Raj Kumar Raut, social activist Kedar Nath Yadav, human rights activist Harinarayan Mandal, journalists from West Nawalparasi Suresh Yadav, and Mahesh Yadav were present in the program as guests. 70 people participated in the program.
Mahesh Yadav
Select your reaction for the News