Nepal: On the same day, training on pad construction and Dhakiya construction has started in Kapilvastu's Shivaraj Municipality-3. It is stated that the training of Baluhawa and Madawa has been started with the support of the Ward Office, coordination of KIRDARC Nepal, Asha Network Baluhawa, and Lali Gurans Swavalamban Group.
Addressing the training, Shivraj Municipality Mayor Netra Raj Adhikari said that people can be changed according to the current situation. He said that he did not know about sanitary pads in the past.
Similarly, Shivraj Municipality Ward no. 3 Teklal Sapkota, ward president of KIRDARC Nepal, informed that KIRDARC Nepal has been providing various education and skill-based training to change the society by forming various dialogue clubs. He said that the training was conducted last year but with the objective of making it more effective, this year's budget has conducted training on making pads.
Ward Chairperson Sapkota said that he would continue the work he had learned to participate in the training and take initiative to make the quality of the goods and market them commercially. Stating that he was given a machine to make the pad even after last year's training, he expressed his commitment to providing support from the ward in the coming days as well.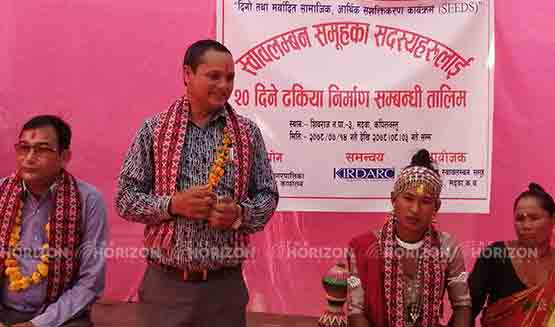 Krishna Rawal, the District Coordinator of KIRDARC Nepal, stressed the need to focus on how to make quality goods. Stating that sanitary pads have been distributed free of cost in the basic schools, Rawal said that the quality of goods at the local level would not affect employment, money, and the environment at the local level.
Similarly, Rasika Budha Magar, chairperson of Asha Sanjaal Baluhawa, said that the skills learned from the training will be put into practice. Ward no. 3 Indu Tharu, KIRDARC Nepal Community Development Facilitator, said that the training will be conducted for three days with the participation of 25 people from Baluhawa. Similarly, ward no. 3 Rajesh Chaudhary, Kirdak Nepal Community Development Facilitator informed that Rita Tharu will teach the training for 20 days with 25 participants from Madawa.
Ram Abatar Chaudhary
Select your reaction for the News