Kapilvastu, Nepal: The Shivaraj Partnership Forest Management Consumer Committee has produced more than one lakh saplings.
The committee has stated that various species of plants have been produced near Ghatgaddi in Chandrauta, Shivaraj Municipality-5 of the district.
According to the management committee, a total of 102,378 saplings including 100,258 Tick saplings, 625 Bakaino, 979 Epil, 66 Gulmohar, 7725 Khair, 7179 spice, and 3546 saplings have been produced in the partnership nursery.
Assistant Forest Officer Prem Shankar Gupta informed that the plants will be distributed free of cost to the consumers. Gupta said that the distribution of the produced plants will start from the first week of July.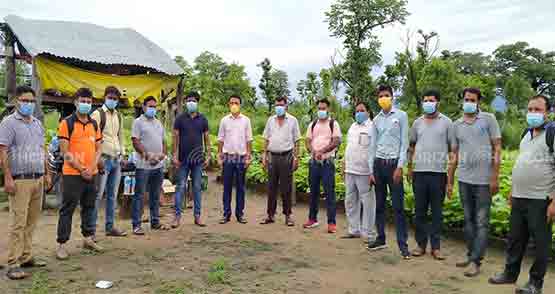 Chairperson of the committee Jagdamba Prasad Chaudhary along with a team of journalists monitored the plants, nurseries, and dams produced by the partnership forest on Sunday and urged the consumers to make the forest green by planting trees.
He stressed the need to be aware not only of cutting down the plants produced in the forest but also of planting them.
Under the partnership forest, saplings will be distributed to consumers in 5 wards of Shivraj Municipality and 3 wards of Krishnanagar Municipality, said, Chaudhary.
After the government stopped the distribution of timber, only 10,000 cu ft. of timber is left to be distributed in the partnership, said, Chairman Chaudhary.
Ram Abatar Chaudhary
Select your reaction for the News