Kapilvastu, Nepal: Karnali Integrated Rural Development and Research Center (KIRDARC) Nepal have celebrated its 22nd anniversary by organizing various programs. The district has been carrying out social activities by forming 72 clubs and 72 groups in different shifts with Shivaraj Municipality-5, Chandrauta as the center.
Speaking on the occasion at the Chandrauta office of KIRDARC Nepal on Saturday, Shiva Kumari Tharu, Deputy Chief of Shivaraj Municipality, said that the organization has played a significant role in the transformation of society. Expressing best wishes on the occasion of entering the 22nd year of KIRDARC Nepal, she said expressed.
Tharu said that they are positive to bring Shivraj Municipality and children's adolocents and other communities forward. Deputy Chief Tharu also expressed her commitment to continuing cooperating on behalf of the city in the coming days.
Meanwhile, Dalit Journalist Lumbini Province president Chinta Pariyar said that the work being done by KIRDARC Nepal for the children and adolescents of the community was commendable. Meanwhile, the club and the media house have also been honored.
Kapilvastu district coordinator of KIRDARC Nepal Krishna Rawal informed that KIRDARC Nepal has been working in the areas of education, empowerment, disaster and environment protection, lifestyle and income generation, health, nutrition and living conditions, upliftment, human rights, democratic co-governance, freedom of expression and information and clean drinking water as well.
Stating that the citizens and local level are looking forward to working together in the future , he said that the programs were conducted with the objective of empowering the civil society, providing quality education, and supporting income generation in Nepal.
From year 2014 to 2018 SIDS program of the district in Maharajganj municipality, Kapilvastu municipality, Yashodhara rural municipality is now working with financial support from Strom Foundation.
The program was held in Shivraj and Buddhabhumi municipality in the joint venture of KIRDARC Nepal for quality education, income boost, and social mobilization.
According to Coordinator Rawal, from 2019 to 2023, the Sustainable and Dignified Socio-Economic Empowerment SIDS Program has been conducting programs in the areas of women, adolescents, children and the disabled in wards 3, 4 and 9 of Buddhabhumi Municipality and wards 1, 2, 3, 5 and 11 of Shivraj Municipality.
In Shivaraj and Buddhabhumi municipalities, 72 dialogue clubs, 8 hope networks, 72 kindergartens, 72 self-reliance groups, 8 toll development organizations and 4 happiness model-oriented villages have been coordinating and cooperating with the program.
Similarly, on the occasion of entering the 22nd year of KIDARC Nepal, educational materials have been distributed to 10 students and adolescents from very poor families. The educational materials distributed included 1 bag, 8 copies, 5 pens, 1 packet pencil, 2 erasers, 2 cutters, 1 geometry box, 1 nail cutter, and 1 dictionary, program administrator Shree Bhandari said.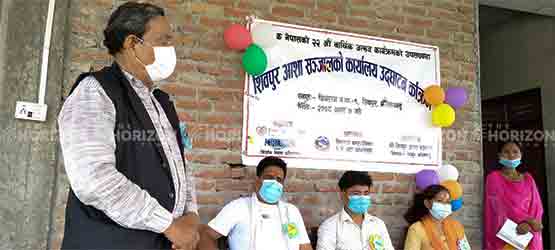 On the occasion, Barkulpur Asha Sanjal Club, run by KIDARC Nepal, distributed relief to 7very poor families affected by Covid-19 in Buddhabhumi Municipality-9, Barkulpur, said club president Sirjana Tharu. According to her, 25 kg of rice, 1.5 kg of pulses, 1 packet of cooking oil, 1 packet of soyabeans, 1 kg of salt and some vegetables have been distributed to each household under the chairmanship of Ward Chairman of Ward No. 9 Khumananda Neupane.
Similarly, five dialogue clubs participated in the Quiz Competition organized by Balapur Asha Network. In which Ekta Samvad Club succeeded in becoming the first. Likewise, Milijuli Dialogue Club and Saksham Dialogue Club were consoled in Second position. The winners were awarded with sets of copy and pencil Daya Prasad Tharu, president of the club informed.
Similarly, the office of Shivpur Asha Sanjal Club has been inaugurated on the occasion of the 22nd celebration of KIDARC Nepal. Shivaraj Nagar Deputy Chief Shiva Kumari Tharu cut the ribbon and inaugurated the office. Similarly, Ward Chairman of Shivraj Municipality Ward No. 1 Jagat Bahadur Gharti said that they are always ready to shake hands with the club.
Speaking at the inaugural function, Mahadev Pokheral, president of Kapilvastu Trade Association handed over masks and sanitizers to Club president Santosh Budhathoki handed for the protection of third wave of corona variants. He also expressed his commitment to cooperate in every possible activity in the future.
Ram Abatar Chaudhary
Select your reaction for the News