Kapilvastu, Nepal: A Maghi cultural program has been completed in Umari of Shivaraj Municipality-1 of Kapilvastu. The program was organized by Ekta and Shanti Swavalamban Group in Umri Danda on Wednesday.
Addressing the cultural program under the slogan "Hamman Culture Hammanke Shan, Tharu Pahichan Bachaena Hammanke Abhiyan", Shivaraj Nagar Deputy Chief Shiva Kumari Tharu said that the cultural program alone would not develop the Tharu community.
Praising the stage of the cultural program as a great way to unleash the hidden talents of the Tharu community, she said that the society would change its face in the coming days if it could endure every distortion and inconsistency in the society.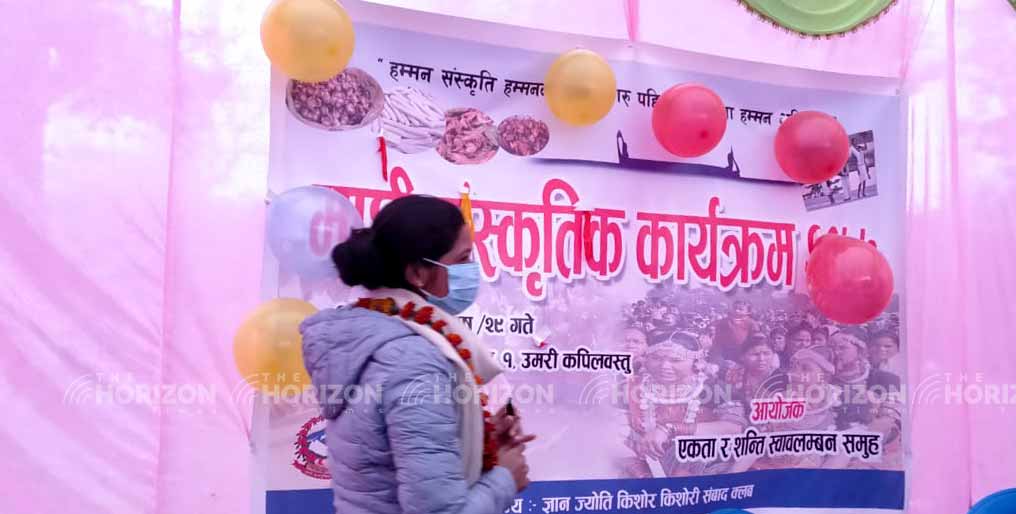 "We need to focus on education, health and other issues for every child in the community," she said. She said that she could imagine a prosperous society by following the good deeds of her ancestors and abandoning the traditions that had a bad effect on the society.
Similarly, most of the speakers at the event said that Tharu culture is one of the most beautiful in the world. Tharu community suggested that one day's wear should not be the only way to preserve one's original identity.
They said that the Tharu Museum being built on Umri Danda by all the Tharus would be a model not only for Shivraj but also for the district. The Tharu leaders said that they were excited to celebrate the Maghi festival despite the dire situation of the Corona epidemic.
At the event, local clubs and youths entertained the audience by performing records and traditional dances in costumes reflecting Tharu culture.
Also on the occasion, Mahadev Pokhrel President of Chandrauta Trade Association Kapilvastu, Bishnu Khatiwada President of Human Rights Foundation Kapilvastu, Bhumiraj Bhattarai Regional Coordinator of Peace Rehabilitation Center, Hari Prasad Laudar District Coordinator of KIRDARC Nepal and Storm Foundation Kapilvastu and journalist Saniullah Dhovi had expressed greetings.
Ram Abatar Chaudhary
Don't Miss This
State of education in schools are monitored
Select your reaction for the News